DSUSD Governing School Board - 2016

Robert is running for DESERT SANDS UNIFIED SCHOOL DISTRICT Governing Board Member Trustee Area 3 in 2016". He has won the respect and admiration of all of us for making the sacrifice - taking the steps necessary to make our community a better place by running for this office. Signed: Executive Committee & Advisory Board of CCOLQ.


LA QUINTA CITY COUNCIL 2014 &
MAYORAL CANDIDACY 2012, VETERAN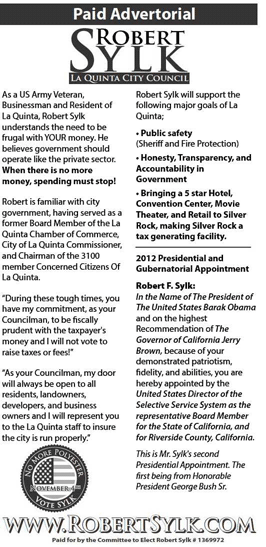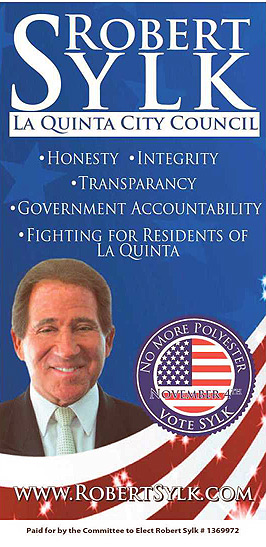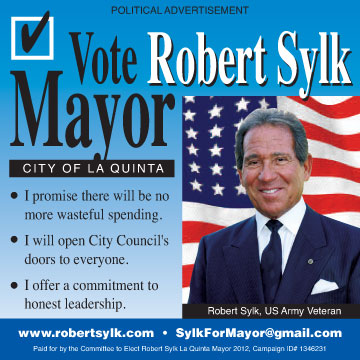 VIDEO INTERVIEWS
Robert Sylk Interview
The Future of Silver Rock • Intro: Hi I'm Robert Sylk
Robert Sylk Family Intro • Audio Commercial - Robert Sylk for Mayor
2014 Candidate Statement – Robert F. Sylk
As a US Army Veteran, Businessman and Resident of La Quinta, I understand the need to be frugal with YOUR money. I believe government should operate like the private sector. When there is no more money, spending must stop!
I am familiar with city government, as a former Board Member of the La Quinta Chamber of Commerce, City of La Quinta Commissioner, and Chairman of the Concerned Citizens Of La Quinta. www.ccolq.org & www.robertsylk.com
During these tough times, you have my commitment, as your Councilman, to be fiscally prudent with the taxpayer's money and I will not vote to raise taxes or fees!
As your Councilman, my door will always be open to all residents, landowners, developers, and business owners and I will represent you to the La Quinta staff to insure the city is run properly.
I will support the following major goals of La Quinta;
Public safety (Sheriff and Fire Protection)
Honesty, Transparency, and Accountability in Government
Bringing a 5 star Hotel, Convention Center, Movie Theater, and Retail to Silver Rock, making Silver Rock a tax generating facility.
I am proud that our two sons have been raised in La Quinta and it is very important to me that La Quinta be a safe community with strong family values.
###
September 27, 2014
Robert Sylk, Candidate for City Council
This posting is the sixth in a series of interviews and written responses from ten candidates for La Quinta mayor and city council. Read More...
###
September 25, 2014
Robert Sylk, Candidate for City Council
TDS Candidate Endorsement for La Quinta City Council Read More...
###
2012 Presidential and Gubernatorial Appointment
Robert F. Sylk: In the Name of The President of The United States Barak Obama and on the highest Recommendation of The Governor of California Jerry Brown, because of your demonstrated patriotism, fidelity, and abilities, you are hereby appointed by the United States Director of the Selective Service System as the representative Board Member for the State of California, and for Riverside County, California.
###
October 11, 2012
Removing campaign signs is despicable
Letter to Editor, The Desert Sun
It's a pathetic but predictable part of every campaign season. Small-minded people who disagree with a candidate's yard sign deface or steal it in the dark of night.
Defacing signs is a despicable, cowardly act by people who do not have the courage of their convictions to stand up for their own views.
I live in La Quinta and have also been the victim of such acts. It is our right to have a choice and it bothers me that people would do this.
If you want to support a candidate, do so by putting up your own sign, not taking others' down.
Taking a sign amounts to larceny and damaging one is vandalism, both are Class 1 misdemeanors punishable by up to one year in jail and a fine.
That yard sign is an expression of the owner's views, as is the written word in letters to the editor. That freedom of expression is protected by the Constitution and is a basic right of all Americans.
Let voters have their say with signs of support for their candidates. That is the process that deserves to be protected. Anyone who would steal or deface them is spineless and does not understand one of the most basic freedoms of that process.
Robert F. Sylk
###
October 7, 2012
Stern Warning
The Desert Sun
Every election, The Desert Sun receives reports of stolen or damaged campaign signs. La Quinta mayoral candidate Robert Sylk has an interesting way of trying to deter such activity.
Next to a campaign sign at 54th Avenue and Jefferson Street, Sylk sent us a picture showing this notice: "A camera is across the street on a post. If you remove this sign, it is a federal election violation and you will be prosecuted."
Robert F. Sylk
###
September 2, 2012
La Quinta City Mayoral Candidacy Support
Letter to Editor, The Desert Sun
I am one of those citizen's who has never been active in politics - UNTIL THIS YEAR! Now more than ever we need candidates for office that have proven leadership. Robert Sylk not only has a long successful business career, but his life-long philanthropic efforts are exceptional. He truly cares about his fellow man.
I'm very concerned about the direction this great country has taken over the past two years. We need to start locally with support of leaders with passion, expertise, and a vision to get things done. Robert knows how to do this and he also understands the average American. We can no longer wait for decisions. We can no longer have conflicts of interest in local leadership and city leaders. We demand clear, unencumbered elected officials that deliver results and are stewards of our taxes.
Robert has offered a 10 Year Plan for La Quinta, since 2008. Special interests and testing the direction of the wind before making decisions that will benefit La Quinta need to stop. Robert Sylk is the leader to forge a new direction and leadership for our great city.
Lenard Wahlert
###
November 7, 2010
Thank You La Quinta!
Letter to Editor, The Desert Sun
From the beginning of this campaign, I asked La Quintans who believe in a new vision for our city to join me. I have been amazed over these months by the enthusiasm of your response. Your time and energy were important to energizing my campaign.
To the hundreds who cast their votes for me, I thank you for your support, and I thank you for your belief in our vision to build a New La Quinta and your confidence that we can change the direction of the city we love. I could not be more proud of the campaign we ran. I gave it my all and so did you. Yes, we came up short, but certainly not for lack of determination and a very clear vision for making our city better. I wanted this campaign to be something different, engaging neighborhoods that are often overlooked and on that score we succeeded.
The journey has now ended, but the mission has not. If you truly care about La Quinta's future, I have one more request of you. Let's keep working. Thank you again for being part of this most wonderful effort.
Robert F. Sylk
###
October 15 2010
Robert Sylk for Mayor
Letter to Editor, The Desert Sun
We need to elect Robert Sylk as Mayor of La Quinta. First, Robert has proven to be a man who understands the business needs of La Quinta. Read More...
###
October 20, 2010
Answers to Eight Questions from The Desert Sun
Question No. 1
My vision for La Quinta in 25 years is the same vision as I have for La Quinta 3 years from now. Read More...
###
October 16, 2010
Robert F. Sylk
"My Ideas for La Quinta"

I am running for Mayor of La Quinta because I have the enthusiasm, leadership skills, and experience to lead our city into the next decade.La Quinta is a great city but needs fresh faces, new ideas and the wherewithal to make those ideas into reality. Read More...
###
October 11 2010
La Quinta needs Robert Sylk as Mayor
Robert Sylk is an accomplished citizen of La Quinta. As V.P. of the L.Q. Community Services Commission, he instituted building of recreational sports parks, playgrounds and trails. Read More...
###
September 16, 2010
Robert F. Sylk's
"Declaration of Independence" for The City of La Quinta
La Prensa Hispana
One of the emerging messages of 2010 is that the future of our city is becoming increasingly intertwined with the future of all our cities in the valley. Opportunities exist in industry and commerce but it seems like we are not pursuing them. Read More...
###
July 09, 2010
Help Take Back Our Country
La Prensa Hispana
Also appeared in The Desert Sun August 15, 2010 as "The Letter of the Week" and generated with a follow up article over 141 responses.
People who never even thought of politics are becoming engaged in their local towns and cities. I finished reading the Constitution and the Declaration of Independence, and now reading The Federalist Papers (complicated). One thing I know for sure, the Founding Fathers never could have envisioned what is going on today. They wrote for their times, and I am sure would be mortified if they heard what "free speech" entails today. They were men of faith and decency, and free speech meant free to exchange ideas, free to speak your mind without fear of reprisal, free to speak about new directions in government, etc.
I am sure they never meant free speech to mean singing about downgrading your mother, or harming police. There was a time in this country when you would have gone to jail for those words, instead of given a stage to shout it from. Politically correct is a joke; we have gone so out of our way not to offend anyone, that we have forgotten the rights of the everyday American. Washington needs a major overhaul. I feel strongly about our country, THE GREATEST COUNTRY ON EARTH, and I would like it to stay that way.
Robert F. Sylk
La Quinta
Lt. Governor of California
Abel Maldonado with Robert Sylk.
###
August 18, 2010
Letter hit the nail on the head on American values
The Desert Sun
Robert Sylk's letter to the editor on Sunday is absolutely correct. For years now, we have allowed the voices of a few to overshadow the good that can be shared through ideas and thoughts. Read More...
###
October 19, 2008
Voting on the party line: Partisanship finding a place in Coachella Valley's nonpartisan elections
Experts say it could bring more local votes
Erica Solvig
The Desert Sun
Party signs
Candidates in nonpartisan races are not allowed to put their political party on the ballot.
But that's not stopping them from making their affiliations known to voters.
In La Quinta, candidate Robert Sylk proclaimed his GOP ties on campaign yard signs.
"I'm a Republican and I'm proud to be a Republican," Sylk said. "I'm not shying away from it, even though it's nonpartisan."
It's a different approach from when Sylk ran for council two years ago. But he says it has nothing to do with the fact that the city is considered Republican territory.
"The residents of La Quinta are very aware of what's going on," he said. "They don't vote for party lines. They vote for the best person."
###
October 31, 2008
Robert Sylk the best candidate for La Quinta city Council
La Prensa Hispana
Robert Sylk is an active member of the community. Sylk has served on the La Quinta Chamber Board for the past six years where he has worked tirelessly to promote the City of La Quinta and has reached out to all segments of the Coachella Valley community. Read More...
###
October 18, 2008
Robert Sylk is recommended
Readers
The Desert Sun
I am writing today to recommend the election of Robert Sylk to the La Quinta City Council. I have known Sylk for several years and have worked with him on the Community Services Commission. Read More...
###
September 24, 2008
La Quinta City Council Election, Robert Sylk deserves support
Readers
The Desert Sun
This is regarding Robert Sylk running for councilman in La Quinta. I moved here from Marina del Rey and have worked closely with Robert in the past. Read More...
###